Overview of Kedarnath Temple: "Jai Shiv Shambhu Jai Baba Kedar"
In Uttarakhand alone, there are around 200 shrines devoted to Lord Shiva, the most notable of which is Kedarnath. Kedarnath village, located in the magnificent Garhwal Himalayas, is one of India's most treasured temple attractions. The village, which is constructed around the famed Kedarnath temple, is situated at 3,580 metres (m) above sea level, near the Chorabari glacier, which is the Mandakini river's source. The temple is the first of the Panch Kedar pilgrimage sites and one of the four important sites in India's Chota Char Dham pilgrimage of the Northern Himalayas. The Kedarnath temple is one of Lord Shiva's 12 Jyotirlingas in India. The Kedarnath mountain, Kedar Dome, and other Himalayan peaks are seen behind the Kedarnath temple. It is one of the 275 Paadal Petra Sthalams described in Tevaram, a famous Tamil Shaivite literature composed by 63 saints known as Nayanars between the 6th and 7th centuries. Thirugnanasambandar, Appar, Sundarar, and Sekkizhar sing Tevaram passages about this temple.
Brahma Kamal has a significant role in the Kedarnath shrine's local community. In the Kedarnath valley, it is regarded as a very holy flower. For the harvesting and selection of sacred flowers from their natural habitat, the Kedar Sabha has devised its own set of laws and restrictions.
Architecture of Kedarnath
Over a broad rectangular platform, the Kedarnath temple is constructed of enormous stone slabs. The Holy Sanctums are reached by ascending the temple's great grey Steps. On the stairs, there are inscriptions in Pali language. Figures of numerous deities and scenes from mythology decorate the interior walls of the temple shrine. Standing in the centre of a vast plateau surrounded by steep snow-capped hills, the Temple at Kedarnath is a majestic sight. A giant statue of the Nandi keeps watch outside the temple entryway. The Kedarnath temple, dedicated to Lord Shiva, is a work of art. It is made out of incredibly enormous, heavy, and evenly cut grey stone slabs, and it makes one wonder how these massive slabs were carried and handled in earlier centuries. The temple contains a Garbha Griha for worship and a Mandap for pilgrims and guests to congregate. Lord Shiva in his Sadashiva avatar is worshipped as a conical rock formation inside the temple.
History of Kedarnath: Who constructed Kedarnath temple?
Lord Shiva is said to have appeared as Jyotirlingam, or cosmic light, in Hindu mythology. There are 12 Jyotirlingas in all, with Kedarnath being the highest. This exquisite temple dates back over a thousand years and was built by Jagad Guru Adi Shankaracharya.
The ancient name for this location is "Kedar Khand," and tradition has it that after defeating the Kauravas in the epic Mahabharata, the Pandavas felt sorry for killing so many people and sought Lord Shiva's forgiveness. They were able to locate Lord Shiva, who was hiding from them in the shape of Nandi, the bull, in Guptkashi. However, one of the Pandavas, Bheema, recognised Lord Shiva and followed him, only to grasp him by his tail while the rest of the body fled into a hidden cave beneath the earth. Lord Shiva, who had vanished from Guptkashi, reappeared in five various forms at Kedarnath, Rudranath, Tungnath, Madhyamaheshwar, and Kalpeshwar: hump, face, arms, belly & stomach, and locks (hair). The famous Panch Kedar pilgrimage circuit includes Kedarnath and the four sites mentioned above.
Another legend about Kedarnath is that of Nar Narayan, who travelled to Badrika Village to worship Parthiva and was met by Lord Shiva. Shiva was asked by Nara-Narayan to return to his natural form for the sake of humanity. Lord Shiva granted their desire and settled in the area that is now known as Kedar, granting him the name Kedareshwara.
Geography of Kedarnath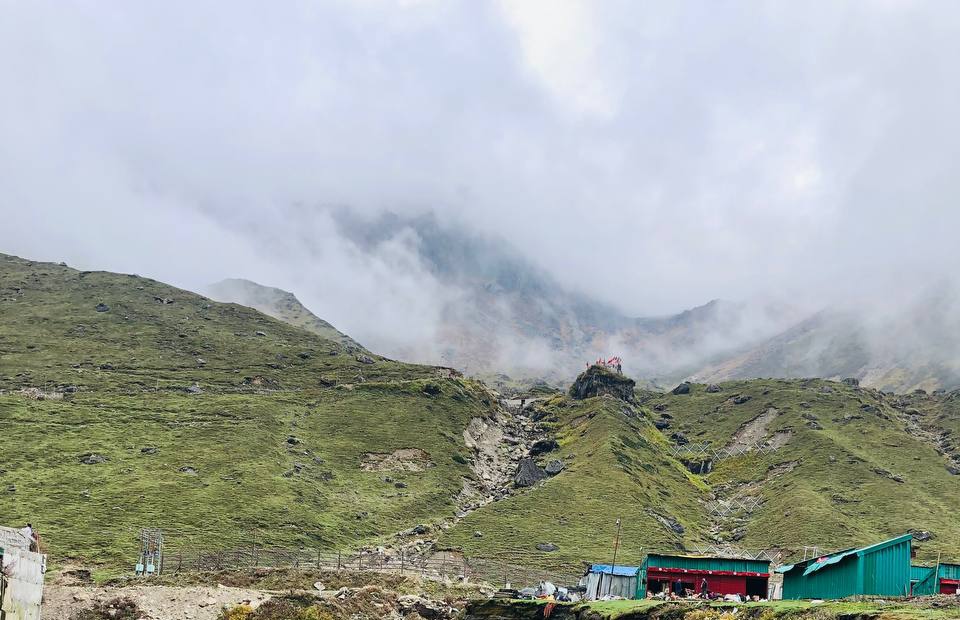 Kedarnath is located in Uttarakhand's Rudraprayag district. For pilgrims on the Char Dham Yatra, Rudraprayag serves as a connecting point between Badrinath and Kedarnath. Rudraprayag, Uttarakhand, is 86 kilometres (Km) away from the holy town. Kedarnath is encircled by the Kedarnath Mountains Peak (6,940 m) and the Kedarnath Dome and covers an area of 3 square Km. Kedarnath lies in the Garhwal Himalayas, around 3,584 m above sea level, near Chorabari Glacier, the Mandakini River's head. The breathtaking views of the towering Gangotri I, II, and III peaks of the Gangotri Group are the region's attractions.
Kedarnath Weather
Winter (October to April)
The days are freezing in the winter. Minimum temperatures can drop below zero, and snowfall is typical. This is not the best time to go during these months.
Summer (May to June)
The minimum and maximum temperatures in summer are 12° and 25°, respectively. Summer months are nice, with a little cool environment. Summer is perfect for sight-seeing and the sacred pilgrimage to Kedarnath.
Monsoon (July to mid-September)
Monsoon season is marked by heavy rainfall and a reduction in temperature. Rainfall is frequent, and the temperature dips to 12°C. The terrain is prone to landslides on occasion, making travel challenging.
How to Reach
By Air: The nearest airport to Kedarnath is Jolly Grant Airport (35 Km from Dehradun), which is 235 Km away. With regular flights to Delhi, Jolly Grant Airport is well linked. Gaurikund is well connected to Jolly Grant Airport via motorable roads. From Jolly Grant Airport to Gaurikund, taxis are accessible.
By Train: Rishikesh is the closest railway station to Gaurikund. On NH58, Rishikesh railway station is located 243 Km before Gaurikund. Rishikesh is well connected to India's major locations via railway networks. Rishikesh is well-served by trains. Rishikesh and Gaurikund are well connected by motorable highways. From Rishikesh, Srinagar, Rudraprayag, Tehri, and many other locations, taxis and buses are accessible to Gaurikund.
By Road: Gaurikund is well connected to main Uttarakhand destinations via motorable highways. ISBT Kashmiri Gate in New Delhi has buses to Haridwar, Rishikesh, and Srinagar. Buses and taxis to Gaurikund are readily available from Uttarakhand's major cities, including Dehradun, Haridwar, Rishikesh, Pauri, Rudraprayag, Tehri, and others. National Highway 58 connects Gaurikund with Ghaziabad.
Kedarnath Temple Opening and Closing Date
The Kedarnath Temple welcomes worshippers every year in April/May and closes in the winter during the third week of November. As a result, the temple is closed for six months each year, during which time prayers to Lord Shiva's divinity are offered at Omkareshwar Temple in Ukhimath.
On the auspicious day of Maha Shivaratri, the priests announce the dates for the opening of Shri Kedarnath Temple. Kedarnath welcomed pilgrims at 6.25 A.M. on May 6, 2022. The auspicious Maha Shivratri, which fell on March 1, 2022, was used to announce the inauguration date for the Kedarnath Temple.
Some Other Keypoints About Keddarnath
Places to visit near Kedarnath?
Sonprayag, Vasuki Tal, Shankaracharya Samadhi, Triyuginarayan, Bhairavnath Temple, Agastyamuni, Chorabari Lake, Guptakashi, Gaurikund, Rudra Meditation Cave.
Kedarnath Flood, 16-17th June, 2013
The state of Uttarakhand had unusually heavy rain between June 13 and 17. This resulted in the melting of the Chorabari glacier and the Mandakini river's outburst. Large areas of Uttarakhand, Himachal Pradesh, and Western Nepal were flooded. Heavy rains resulted in major flash floods and landslides, killing people and visitors and causing significant property damage. The Kedarnath valley, famous for its 8th century shrine devoted to Lord Shiva, was reportedly the most damaged. A unexpected quick melting of ice and snow on the Kedarnath Mountain, 6 Km from the temple, flooded the Chorabari Lake (upstream) and subsequently Kedarnath, causing the most of the devastation.
Can Muslims and other religion people enter Kedarnath temple?
You can visit Kedarnath even if you are not a Hindu.
What happens inside Kedarnath temple?
Outside the temple entryway, you are greeted by a large statue of Nandi. Inside the Kedarnath temple, there is a conical rock structure that is revered as Shiva's Sadashiva form. Inside the temple, there is a "Garba Griha" for prayer and a Mandap for pilgrims.
Why is Kedarnath temple is so famous?
The Kedarnath temple shrine, one of the most important temples of Sanatan Dharma (Hinduism), is located at a high altitude and is said to have been built there by the Pandavas of Mahabharata who were seeking pardon for the ills and sins that are written on one's account as a result of practises such as war.
How many people can visit Kedarnath temple?
The state administration has increased the daily limit for pilgrims visiting Kedarnath Temple. Only 13000 pilgrims will be permitted to enter the temple every day from now on. To visit Kedarnath or other char dham temples, you must first register on the state government's website.
Is Kedarnath a real story?
Though the genuine narrative of Kedarnath isn't based on any two people, the natural tragedy that serves as the backdrop is.
How much does Kedarnath trip cost?
Total Cost INR 7,000/-
Cost for 3 Nights Stay (per person)- Starting Point Delhi
Transport- INR 3,000/- including return (on road public transport)
Hotel- 1,500/-
Food- INR 1,500/-
Other Things- INR 1,000/-
When is the best time to visit to Kedarnath Dham?
Between April and November is the ideal time to visit Kedarnath Dham, with April to mid-June and October to mid-November being the greatest months.
Thank you for visiting our website "Your Fact Houses" (your.facthouses.com)