Overview of Chamba
The Himalayan town of Chamba is situated in Himachal Pradesh's Chamba district and known for its historic buildings, caves, and temples dating back to ancient India. Shimla Nahi Basna, Kasauli Nahi Basna, Chamba Jana Zaroor, the first lyrics of a well-known Himachali folk song, mean "Don't Settle in Shimla, Don't Settle in Kasauli, But Definitely Visit Chamba". The miniature Pahari paintings, a style of Indian painting that emerged from the Himalayan hill kingdoms of North India between the 17th and 19th centuries, are among Chamba's most well-known traditional handicrafts and works of art. It serves as the starting point for a number of treks across the vast Himalayan hills. This, together with the breathtaking beauty and serene surroundings, entices tourists searching for a unique place amid the very well-known Himachali towns. Suhi Mata Mela, held in March or April for four days, and Minjar Mela, observed on the second Sunday of the Shravana month, or August, are two well-known festivals in Chamba. Numerous folk songs are devoted to this city of fortresses and temples that date back many centuries.
Some Interesting Facts About Chamba Rumal
The name Chamba Rumal comes from Chamba. The Chamba Rumal is a remarkable example of Himalayan needlework and crafts traditions, and it is frequently visited by Himachal Pradesh's royal family. Chamba Rumals is often fashioned from cloth that is cut into squares or rectangles of various sizes. Experts in miniature art generally draw the base art, which is distinguished by its delicate lines. After the artwork is finished, the cloth is painstakingly stitched with embroidery, which is typically done by women.
History of Chamba
An important person by the name of Maru is credited with beginning the history of the Rajput dynasty. Maru is claimed to have migrated from Kalpagrama to northwest India about the year 500 AD. He established Brahmapura, later known as Bharmaur, as his capital city in the Budhal River Valley. 75 kilometres (Km) to the east of the present-day town of Chamba is where you'll find Bharmaur. Rajput Dynasty monarchs governed from their capital at Bharmour for 300 years. But in 920 AD, Raja Sahil Varman (or Raja Sahila Verman), King of Bharmour, relocated his capital from Bharmour to a plateau in the lower Ravi valley that was more centrally positioned. He called the city Champavati after his daughter, which throughout time was simply abbreviated to "Chamba".
Geography of Chamba
With the Shah Madar hill providing a background on its eastern side, Chamba is situated at the confluence of the Ravi River and its tributary, the Sal River. The Ravi forms vast valleys as it runs east to west. The Pir Panjal, Zanskar, and Dhauladhar mountains, which provide the town's picturesque background, are what make Chamba so famous. At a height of 996 metres (m), this Himalayan town is bordered by Jammu & Kashmir, Lahaul, and Kangra. The annual rainfall is 1,621 mm (millimetre).
Chamba Weather
Summer (April to June)
The temperature ranges from 19-40°C during this season. The temperature here is still pretty pleasant, even in the summer. The bulk of tourists stay in the area at this period. During the summer, light cotton clothing is great.
Monsoon (July to September)
The temperature ranges from 15-25°C during this season. This is the time of year when it is cloudy and misty outside. During this time, the valley is completely covered in a light green hue, with freshly washed leaves gleaming in the glory of the after-rain sunlight.
Winter (December to February)
The temperature ranges from 0-15°C during this season. Chamba is typically mild and dry throughout this time of year; however higher elevations do see snowfall during these months. During this time of year, visitors should wear thick wool clothing to enjoy the snowfall.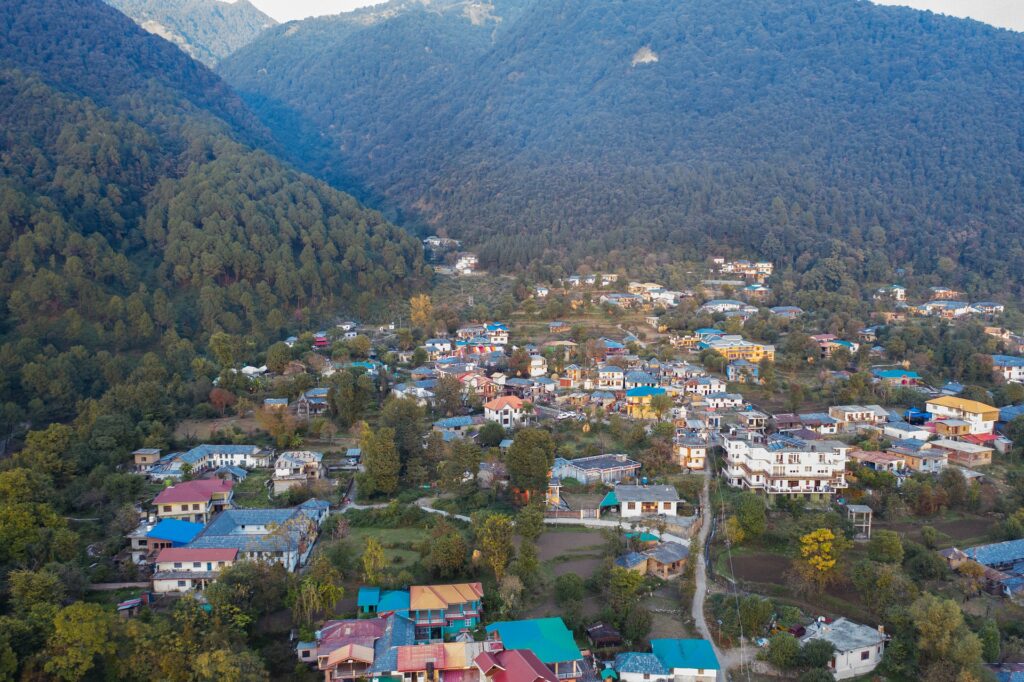 Places to Visit in Chamba
Khajjiar Lake
The lake is located at a height of 1920 m above sea – level and is bordered by snow-covered mountains and a pine forest. It is located at a distance of 21 Km from Chamba. The "Floating Island," a patch of vegetation and grass growing on the lake's surface, is one of Khajjiar Lake's primary attractions.
Kalatop Wildlife Sanctuary (38 Km from Chamba)
The 30.69 square Km Kalatop Wildlife Sanctuary is surrounded by a deodar forest. It is the home of diverse range of wild animals, which include barking goral, jackal, langur, serow, leopard, Himalayan black marten, deer, bear, and many more. The entire year, from January to December, it is open.
Chamunda Devi Temple
The Chamunda Devi Temple is situated beside the Baner River. The temple, which was constructed entirely of wood and by Raja Umed Singh in 1762, boasts Chamba's unique gabled roof. The temple is thought to be where Shiva and Shakti reside. Lord Hanuman and Lord Bhairav have their own primary shrines in the temple. Prior to the construction of the new road, devotees had to climb around 378 stairs to get to the temple, which is located 3 Km from Chamba.
Chamera Dam (37 Km)
On the Ravi River, Chamera Dam was erected. The Chamera Dam's reservoir, Chamera Lake, has a maximum water level of 747 m in the summer and up to 763 m during the rainy season. At the lake, there are many different water activities available, including sailing, paddle boating, rowing, fishing, motor boating, and kayaking. Shikaras and houseboats are also available in Chamera Lake for your enjoyment.
Manimahesh Lake (51 Km)
It is located in the Pir Panjal Range of the Himalayas, not far from Manimahesh Kailash Peak. The lake, which is 4,080 m above mean sea level, is second only to Lake Mansarovar in Tibet in terms of its religious significance. A significant pilgrimage known as the "Manimahesh Yatra" is made to the lake between the months of August and September on the eighth day of the new moon phase.
Champavati Temple
One of the most spiritual sites and top tourist attractions in Chamba is the Champavati Temple, which is close to the Police Post and Treasury building. Raja Sahil Varman built it in honour of Champavati, who was her daughter. The temple may be distinguished from others because to its Shikhara design and numerous ornate stone carvings. Vasuki Naga, Wazir, and Goddess Mahisasuramardini, a form of Goddess Durga, all have shrines at this temple. The Indian Archeological Survey looks after the temple.
Lakshmi Narayan Temple
Raja Sahil Verma built the Lakshmi Narayan Temple sometime in the eleventh century. There are around six temples in the Lakshmi Narayan complex, all of which are devoted to either Lord Shiva or Lord Vishnu. Rare marble that was once discovered in the Vindhyas mountains is utilised to make the primary idol of Lord Vishnu.
Akhand Chandi Palace
The lavishness of the Mughals and the elegant British architecture are on show in Akhand Chandi Palace. It was constructed between 1748 and 1764 and is a beautiful fusion of western and eastern style.
Bhuri Singh Museum
Bhuri Singh Museum, which opened on September 14, 1908, is one of the top tourist attractions in Chamba and all of Himachal Pradesh.
Rang Mahal
One of the greatest structures in the Chamba region is Rang Mahal, which Raja Umed Singh constructed in the 18th century. The palace features impressively crafted towering fort-like walls and showcases the ideal fusion of Mughal and British architecture.
Accommodation and Hotels
Hotel Ashiana Regency, The Iravati Hotel, Anantson Resort, Hotel Aroma Palace, Hotel City Heart, Riverside Villa Homwestay, Homestay Surrounded in Farms. Choose a homestay as your stay if you wish to experience Chamba's authentic culture.
How to Reach
By Air: The nearby airports are located in Pathankot (120 Km), Amritsar (220 Km), Kangra (172 Km), and Chandigarh all have airports (400 Km). You may get to Chamba from any of these locations via a taxi or a bus.
By Train: About 120 Km from Chamba, at Pathankot, is the closest railway station. There are several bus and taxi options that go between Pathankot and Chamba. You may also go by rail to Chandigarh or New Delhi and then get a bus or cab from there.
By Bus: Regular bus service from the nearby states of Delhi, Haryana, and Punjab is provided by the Himachal Road Transport Corporation (HRTC). They go to and from the cities of Pathankot, Shimla, Kangra, Solan, and Dharamsala within the state.
Some Other Key Points About Chamba
Why is Chamba famous for?
The unspoiled natural splendour of Chamba, the home of Kailash Mountain and Lord Shiva, is well known. It's a little but incredibly alluring tourist attraction in Himachal Pradesh, noted for its breathtaking natural beauty. All year long, visitors visit it.
Is Chamba a hill station?
Yes.
Which district is Chamba?
The district of Chamba, which has its administrative centre at Chamba Town, is located in Himachal Pradesh, India's northwest.
Which temple is famous in Chamba?
Laxmi Narayan Temple
What is the famous food of Chamba?
Madra is a specialty that originated in the Himachal Pradesh area of Chamba. The meal mostly consists of soaking vegetables or chickpeas (chana).
Does Chamba have snow?
Occasionally, during the months of January and February, snow falls in Chamba.
How many days are enough for exploring Chamba?
2 Nights 3 Days
How much does Chamba tour cost?
Total Cost INR 5,300/-
Cost for 2 Nights Stay (per person)- Starting Point Delhi
Transport- INR 1,700/- including return (on road public transport)
Hotel- INR 1,000/-
Food- INR 1,500/-
Other Things- INR 1,100/-
Thank you for visiting our website "Your Fact Houses" (your.facthouses.com)