Overview of Yosemite National Park
Yosemite National Park in lovely Mariposa County invites you to explore this magnificent park throughout the year. Yosemite, the crowning achievement of California's national parks, has astounded tourists ever since the first two explorers set eyes on it in 1855. Today, more than 4 million visitors each year wonder at the area's rare natural wonders, which have been captured on camera by celebrities like early environmentalist John Muir and renowned photographer Ansel Adams. Yosemite, which was carved into the Sierra Nevada Mountains' heart by ancient geological processes, is so magnificent and diverse that it was even named a UNESCO World Heritage site in 1984. Yosemite National Park in California, which was first protected in 1864, astounds with more than 3,000 square kilometres of roaring waterfalls, vast valleys, towering gigantic sequoias, and amazing granite peaks. The waterfalls in Yosemite National Park are its main attractions.
History of Yosemite
Yosemite Valley may have been accessed by trappers in the 1830s, and a miner by the name of William Penn Abrams is said to have arrived at Inspiration Point (close to the valley entrance) in 1849. After a California state militia unit drove raiding Native Americans into the valley in 1851, the valley undoubtedly gained worldwide recognition. Soon after, settlers arrived, including merchants who built hotels for tourists who rode horses or walked over difficult, steep paths. The distribution of artworks of paintings and sketches by artists like Thomas Hill as well as photography by Carleton E. Watkins sparked interest in Yosemite. The federal government was requested to safeguard Yosemite Valley and the Mariposa Grove due to worries about the impact of this population increase on the ecosystem. In response, it authorized the creation of a state park there in 1864.
Yosemite National Park was established in 1890, largely thanks to the efforts of naturalist John Muir and author and magazine editor Robert Underwood Johnson. President Theodore Roosevelt came to meet Muir in Yosemite in 1903 at his request as he continued to encourage the federal to acquire all of the area. The state park territory was finally combined with the national park in 1906. Later, additional pieces of land were added until the park reached its current size.
Geography of Yosemite
Yosemite is located in the middle Sierra Nevada, a 400-mile-long granite-based mountain range in eastern California, on its wetter western slope. Although the park is mostly highland, two enormous river basins that flow from the Sierras westward into the Central Valley serve as its geographic pillars. The majority of the park's biggest peaks are located in the southeast, several of which rise beyond 10,000 feet (3,050 metres); Mount Lyell, at 13,114 feet (3,997 metres), is its highest peak. Many deep U-shaped valleys have been carved by glaciation, most notably the Yosemite Valley of the Merced River. A multitude of attractions may be found in the valley, which is between 0.5 and 1 mile (0.8 and 1.6 km) broad and bends in a pleasant arc around 7 miles (11 km) long.
Weather of Yosemite
Winter (November-March): The Sierra winters are chilly and rainy, with more than 70% of the annual precipitation occurring between November and March, typically as snow. Higher elevations can have snow thicknesses of up to several feet. Snowfall occasionally happens in April, although it can also happen in May. During the winter, precipitation is relatively high and largely takes the form of snow, with an average snowfall of 65 inches (1,650 mm).
Spring (April-July): Yosemite is in transition throughout the spring, with lower elevations seeing a full spring bloom and higher elevations still having snow on top of them. One day may be pleasant and bright while the next may be chilly, rainy, and stormy. Runoff from melting snow fills or overflows streams and rivers. Temperatures are normally comfortable, despite the possibility that they might fluctuate from the freezing point at night to the 70°F during the day.
Summer (June-September): In the summer, Yosemite Valley has hot days that can approach 100°F, while the evenings are cold. Tuolumne Meadows (8,600 feet) has midsummer temperatures that are often in the 70s during the day and 30s at night. Even though the sky is often clear in the summer, thunderstorms might happen every day.
Fall (September-October): The nights get colder as the season progresses, but the days stay warm into October. Some smaller streams are trickles or entirely dry by fall because rivers and streams are refilled by snowmelt. In the valley, the average annual total precipitation is roughly 36 inches (910 mm).
Flora and Fauna
More than 400 species of vertebrate animals, including fish, amphibians, reptiles, birds, and mammals, may be found in Yosemite National Park. The numerous, generally unaltered ecosystems in Yosemite are the cause of the remarkable species diversity. The diverse ecosystems of the park include alpine rock expanses, dense foothill chaparral, and coniferous woods. Each place seems like home to animals. Yosemite, Sequoia, and Kings Canyon are home to more than 1,500 different plant species; to list them all would require a whole book. The flora in all of the parks is similar, with species ranging from small lichen to enormous sequoias, with elevation being the main difference.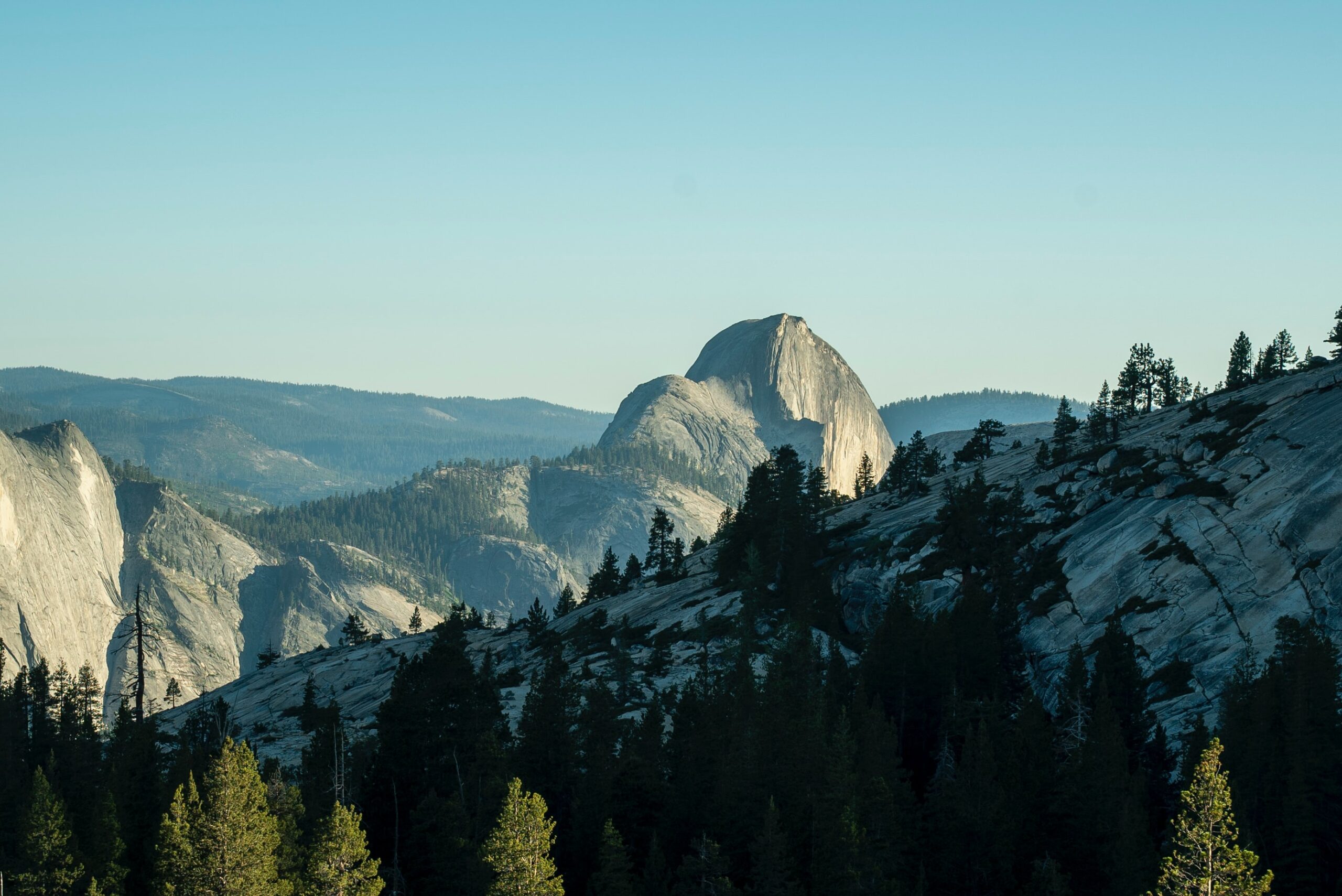 Places to Visit in Yosemite
Yosemite Valley: A 6 square mile area that makes up the majority of this lovely park, which has an overall area of approximately 1,200 square miles, is its heart and soul. Yosemite Valley, where many of the well-known cliffs and waterfalls that give Yosemite National Park its notoriety are found, is reachable year-round by bus and automobile.
Mariposa Grove of Giant Sequoia: About 500 mature giant sequoia trees—possibly the biggest living creatures on Earth—can be found in the Mariposa Grove of Giant Sequoia Trees, close to Yosemite's south entrance. The oldest huge sequoia in Yosemite might be almost 3,000 years old. The Grizzly Giant and the California Tunnel Tree are two of the most famous giant sequoias in Yosemite's greatest giant sequoia forest.
Half Dome: A challenging endurance walk called Half Dome will take you 4800 feet above Yosemite Valley to breathtaking vistas of Vernal and Nevada Falls. It has a sheer vertical face on one side and three softly rounded sides.
Tunnel View: Any visitor to Yosemite Valley for the first time must stop at Tunnel View, the renowned photograph by Ansel Adams. You can view Bridalveil Fall, Half Dome, and El Capitan from this location. The ideal seasons to view Tunnel View are early spring (when Bridalveil Fall is at its peak flow) and winter, when the lovely granite domes are wrapped in snow and mist. This view varies with each season to present something unique.
Tioga Pass: Tioga Pass is the highest route crossing the Sierra Nevada in central California, United States (9,945 feet [3,031 metres]). The Tioga Road (Highway 120) ascends above the Valley and takes you to beautiful lakes and spectacular views. It's challenging to predict when Tioga will open because it usually depends on how much snow fell over the pass the winter before.
El Capitan: One of the most recognizable rock formations in the entire world is El Capitan. El Capitan, with its more than 3,000 vertical feet of granite cliff, is a tourist attraction, a photographer's dream, and one of the world's most difficult climbs.
Mist Trail: One of California's most well-known paths is called Mist Trail. The route leads to the recognizable Half Dome. Hikers get up-close views of Vernal Fall and Nevada Fall, two of Yosemite's famous waterfalls, along the journey.
Yosemite Falls: The most well-known and frequently captured waterfall in Yosemite, it ranks sixth in the world in terms of height and is one of the tallest in North America. Its three independent falls plunge 2,425 feet, or about half a mile, in total. One of Yosemite's symbols, the rainbow is famous for its vibrant appearance in the spring.
Vernal Fall: Even though it isn't as tall as Yosemite Falls, Vernal Fall is well-known for its year-round greenery, rainbow mist, and cascading water.
Tenaya Lake: It is one of the most beautiful and convenient lakes, making it a well-liked spot for paddling, swimming, and exploration. The Native Americans were aware of the beauty of the light granite rocks that provided the lake basin's backdrop as a result of glacial activity.
Some Other Key Points of Yosemite
How much is the entrance fee?
A seven-day park pass is available for $35 per car at the Yosemite National Park entrance points. A $70 Yosemite Pass allows you to enter the park as often as you like for a whole year.
Motorcycle – $30.00
Foot, Bicycle, Horse – $20.00
Where do I enter Yosemite National Park?
Yosemite National Park has five primary entrances. Hetch Hetchy, Big Oak Flat, Arch Rock, and South Entrances are the four on the western side. The final one, the Tioga Pass Entrance, is located on the park's remote eastern side.
Where should we stay?
Yosemite Hospitality is in charge of managing the lodging facilities inside Yosemite National Park, which vary from basic tent cabins at the High Sierra Camps to luxury suites at The Ahwahnee.
Thank You for Visiting Our Website "Your Fact Houses" (your.facthouses.com)